Colorado Land For Sale
Colorado Land
At Sports Afield Trophy Properties, our available ranches in Colorado for sale are about as diverse as the state itself. While Colorado is perhaps best known for its mile-high cities and snow-capped mountain peaks, it also boasts dynamic river canyons, desert lands, and an immense variety of wildlife.
There are many ways you can turn the purchase of any of our ranches in Colorado for sale into a smart, long-term investment that offers both physical and financial rewards. The land is ripe for agricultural use or livestock operations, and the abundance of gravel reserves, mineral values, and water rights in many parts of the state can make for an easy return on your investment.
Of course, there's more to do in Colorado than simply live off the land. As a neighbor to some of the most exquisite National Forests in the country, including the Pike, San Isabel, and Rio Grande National Forests, you can explore the world by foot, horseback, ATV, snowmobile, or any other type of transportation you choose.
There's also no shortage of Colorado hunting land for sale. Common game throughout the state includes trophy elk, mule deer, antelope, white tail deer, turkey, waterfowl, and upland birds. State-controlled hunting regulations offer certain Game Management Units (GMU) where hunters are allowed longer seasons and more liberal bag units for elk. Some of our Colorado hunting land for sale also comes with a Landowner Preference Program (LPP) which provides owners with additional game tags every year.
Colorado also loves its fish. Rainbow, cutbow, and lake trout are common, along with catfish, pike, carp, and drum. Outfitting and nursery opportunities are also possible on ranches in Colorado for sale, though you might be tempted to keep them all to yourself.
For the perfect blend of majestic mountains and rustic charm, there's no better place to call home than Colorado. Contact us today to schedule a viewing of any of our Colorado hunting land for sale.

A Natural High, Cripple Creek, Colorado, USA
Colorado Land for sale! A Natural High is an incredible work of nature's art and an expression of sheer beauty! This special place on earth was perfectly crafted from a blend of bold to sublime. Atop its highpoint you will spin around in every direction and find yourself speechless from the variety of scenery, colors and textures. Dazzling views of prominent snow-capped mountains like Pikes Peak, Sangre de Cristo's and Collegiate Peaks are easily enjoyed from a private building site...
$ 179,000
35.13 acres
Wildlife Viewing
The Hay Bale, Canon City, Colorado, USA
The Hay Bale is a perfect fit for those who yearn to work the land – till, plant and harvest your own crops, organic fruits, vegetables, or maintain a lush hay pasture on this flood-irrigated acreage! Colorado Land For Sale! The Hay Bale would be the perfect fit for the outdoor enthusiast who enjoys working the land. Just under 5 acres, its level terrain and ample water rights, including five (5) shares of the Oil Creek Ditch and two (2) shares of the Hydrau...
$ 165,000
4.99 acres
Agriculture, Equestrian
Rising Moon, Divide, Colorado, USA
Colorado Land for Sale! Rising Moon is a unique offering of unimproved land sitting in the shadow of Pikes Peak. Its pockets of tall pine, spruce and aspen provides a cozy, private setting – ideally suited for full time residence or a weekend cabin or cottage getaway. The 10+ acres of adjoining meadowland gives you sense of spaciousness and its proximity to town and outdoor recreational opportunities are outstanding. The dream of land ownership and building a mountain escape ar...
$ 140,000
14.27 acres
Wildlife Viewing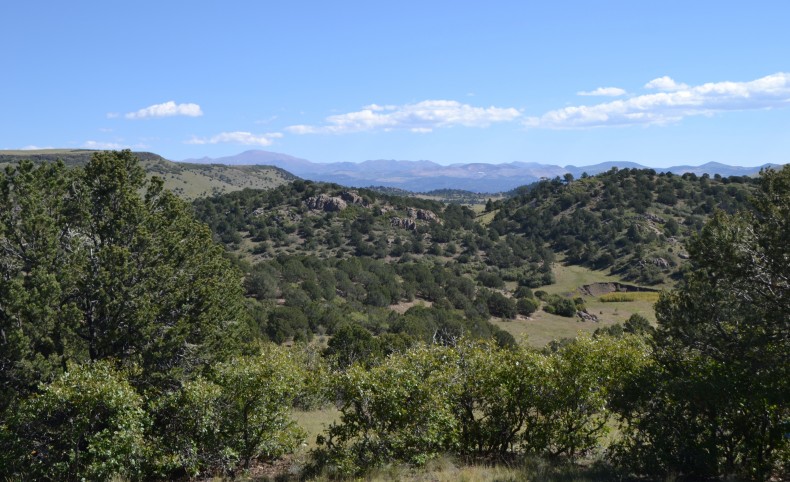 Mountain Surround, Canon City, Colorado, USA
Got Mountains? Yes, it does! Mountain Surround has astounding views of (3) mountain ranges, gently sloping topography, a quiet rural setting and great access – perfect for cabin or home! Colorado Land for Sale! Mountain Surround is truly a prize recreational-residential property in an amazing setting! From one of several build sites, you have astounding views of the Pikes Peak, Sangre De Cristo and Collegiate Peak Mountain Ranges! Other views include Cap Rock, Big Baldy, ...
$ 125,000
35.5 acres
Equestrian, Wildlife Viewing